The Human Services Department mission is: To transform lives. Working with our partners, we design and deliver innovative, high quality health and human services that improve the security and promote independence for New Mexicans in their communities.
Important NM Medicaid Promoting Interoperability Program Dates—Plan Ahead
Eligible Professionals (EPs) who have 2015 Edition Certified EHR Technology (CEHRT) for the respective Meaningful Use Reporting Period and have received at least one incentive payment can continue to participate in the NM Medicaid Promoting Interoperability Program through 2021 (last year of the program) or until they reach a total of six years in the program, whichever comes first.
However, as 2021 is the last year for which an EP may receive payment, program attestation dates for 2020 and 2021 will be shorter and will be consecutive with only a one-month break in between.  As a result, timeframes from which to select Patient Volume and Meaningful Use Reporting Periods may be impacted.
Use the table below to plan ahead for attesting for the remainder of the NM Medicaid Promoting Interoperability program years. 
Contact Valorie.Vigil@state.nm.us or 505-827-1321 to schedule a phone time to review the table and ask questions.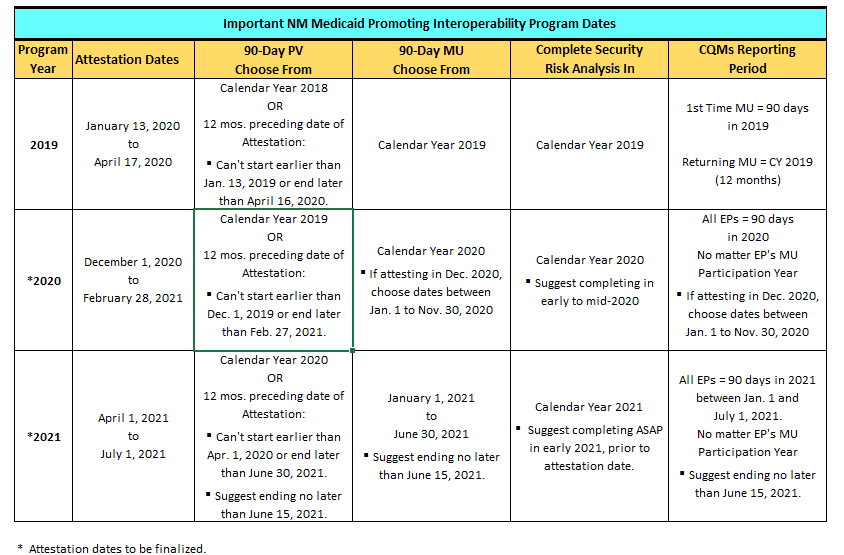 Payment and the MAD 220 Provider Participation Agreement
An Eligible Professional (EP) may assign payment to himself/herself or choose to assign the payment to a business, group practice or clinic in which s/he practices.   Payment assignment occurs during program registration at the Medicare and Medicaid EHR Incentive Program Registration and Attestation System.
If an EHR payment has been assigned in a manner not currently captured in the NM Medicaid Computer Payment System, completion of a MAD 220 Provider Participation Agreement may be necessary so the state can issue the incentive payment as assigned by the EP.  Use the Medicaid Enrollment Review  to determine if the EP needs to complete the MAD 220 Form to enable the state to make the EHR payment as assigned.  Click on MAD 220 Provider Participation Agreement to access the electronic version of the form and submit on-line.