To transform lives. Working with our partners, we design and deliver innovative, high quality health and human services that improve the security and promote independence for New Mexicans in their communities. 
Rural Health Care Delivery Fund (RHCDF)
The Rural Health Care Delivery Fund (RHCDF) was established by the 2023 New Mexico Legislature through Senate Bill 7. 
Funding from the RHCDF is intended to defray operating losses, including rural health care provider or rural health care facility start-up costs, incurred in providing new or expanded health services to New Mexico residents. HSD will provide up to $80 million in funding through FY26.
Additional details can be found in the "RHCDF Request for Applications" Document below:
RHCDF applications are now being accepted. Please use the "RHCDF Application Page" button below to access the application.
Application documentation templates:
Rural Health Care Delivery Fund | 8/17/23 Technical Assistance Call Recording
Slides: RHCDF Technical Assistance (updated on 8/18/23)
New Mexico Primary Care Council
The Primary Care Council is a community body established through House Bill 67 in the 2021 New Mexico Legislature.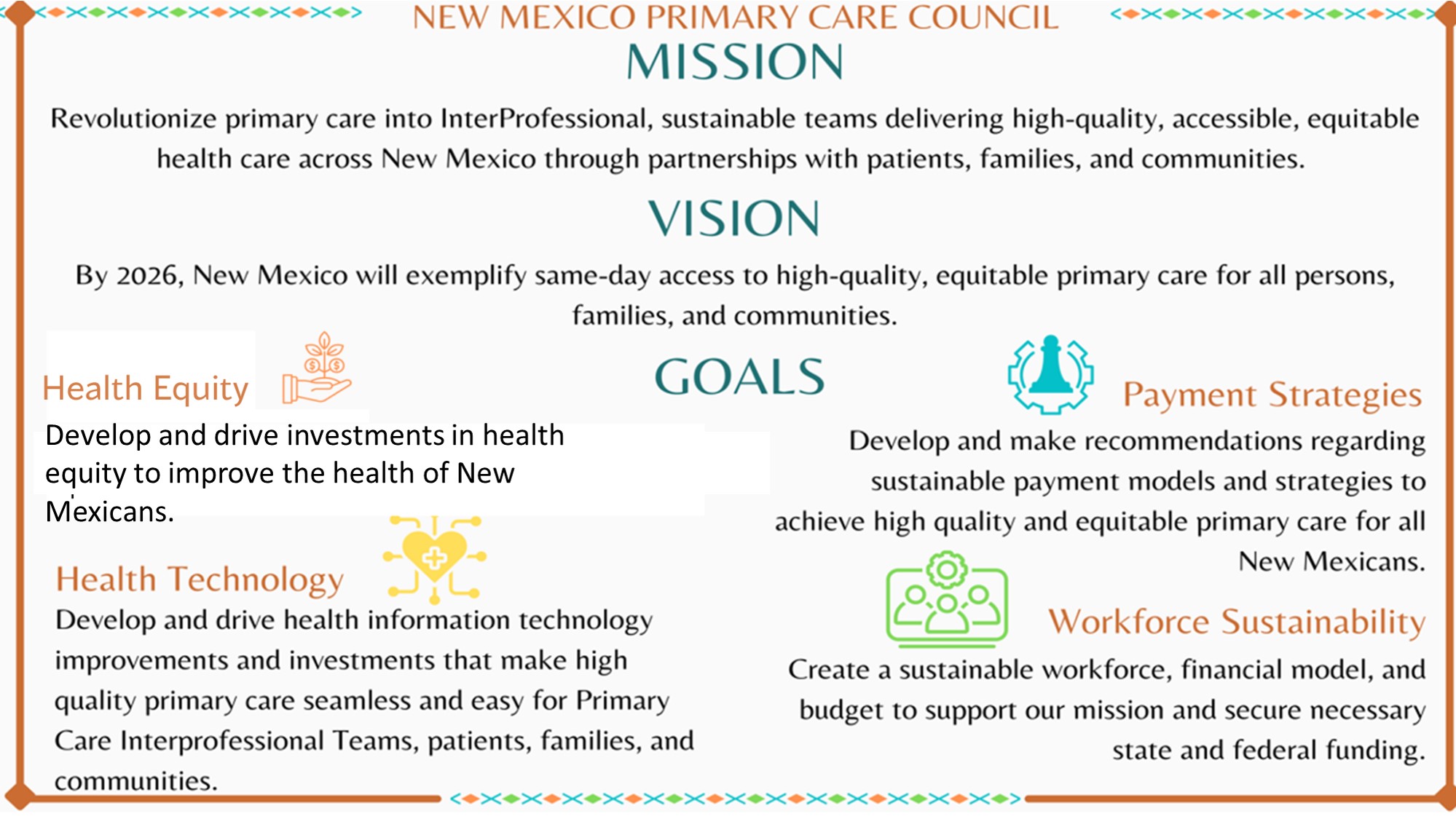 August PCC Quarterly Meeting
The next quarterly meeting of the Primary Care Council will be held on Wednesday, August 30 from 1:00pm – 3:00pm (MST). The meeting is open to the public and will be held via zoom.
Join Zoom Meeting
https://us02web.zoom.us/j/83772386760pwd=TmcxRFMyUFgvTXNkOVhvZzBNZktBUT09
Meeting ID: 837 7238 6760
Passcode: 948631
—
One tap mobile
+12532050468,,83772386760#,,,,*948631# US
+12532158782,,83772386760#,,,,*948631# US (Tacoma)
—
• 833 548 0282 US Toll-free
• 833 928 4608 US Toll-free
• 833 928 4609 US Toll-free
• 833 928 4610 US Toll-free
• 877 853 5257 US Toll-free
• 888 475 4499 US Toll-free
• 833 548 0276 US Toll-free
Meeting ID: 837 7238 6760
Passcode: 948631
Find your local number: https://us02web.zoom.us/u/kcozhesK6l
Please contact Elisa Wrede, Senior Manager for Primary Care Innovation, with any questions: elisa.wrede@hsd.nm.gov
Video: Overview of the NM Primary Care Payment Model
Presented by HSD and hosted by the New Mexico Medical Society
2023 PCC Materials & Resources
New Mexico Primary Care Council Strategic Plan
3-29-23 PCC Quarterly Meeting Materials
https://www.hsd.state.nm.us/wp-content/uploads/PCC-PPT2023_03_29-2.pdf
6-9-23 PCC Quarterly Meeting Materials
https://www.hsd.state.nm.us/wp-content/uploads/PCC-PPT2023_06_09_v2.pdf
8-30-23 PCC Quarterly Meeting Materials
https://www.hsd.state.nm.us/wp-content/uploads/PCC-PPT2023_08_30_emw.pdf
2021-22 PCC Materials & Resources
New Mexico Primary Care Council 2022 Strategic Plan
8-19-22 Primary Care Council Meeting Materials
11-9-22 Primary Care Council Meeting Materials
5-20-22 Primary Care Council Meeting Materials
2-26-22 Primary Care Council Meeting Materials
10-27-21 Primary Care Council Meeting Presentation
Presentation available to view here: https://www.hsd.state.nm.us/wp-content/uploads/FINAL-PCC-PPT2021_10_27.pdf
PRIMARY CARE COUNCIL INAUGURAL MEETING PowerPoint
https://www.hsd.state.nm.us/wp-content/uploads/Update-FINAL-PCC-Inaugural-Meeting-PPT2021_07_24_ACS.pdf
7-24-21 Meeting Minutes
New Mexico Primary Care Council OPEN MEETINGS RESOLUTION