To transform lives. Working with our partners, we design and deliver innovative, high quality health and human services that improve the security and promote independence for New Mexicans in their communities. 
The Human Services Department administers and oversees several federal and state programs including; the enforcement of child support payments, the administration of substance abuse and mental health programs, and the provision of food, financial assistance, and health care to those who qualify.
Secretary David R. Scrase, M.D.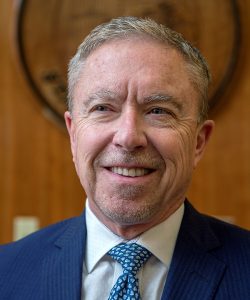 Sec. Scrase was appointed by Gov. Michelle Lujan Grisham and confirmed by the Senate on February 11, 2019.
Dr. Scrase is a Board Certified Internist and Geriatrician, and at the time of his appointment he was the Interim Division Chief for General Internal Medicine and the Chief of Geriatrics at UNM. His first love and understood calling is as a primary care physician, and he has continuously cared for patients for over 30 years, despite concurrent service in administrative roles. He continues to see patients while serving as Secretary of the Human Services Department.
Dr. Scrase has held a variety of administrative positions, including nine years in medical education, as well as numerous healthcare executive positions in Michigan and New Mexico. Since moving to New Mexico more than 20 years ago, he has been active in many New Mexico public policy committees and community organizations, including four years as Director and Treasurer of Equality New Mexico and as a member of the Board of Menaul School in Albuquerque. He served on Governor Richardson's Insure New Mexico! Committee and Health Care for New Mexicans Committee, on the national Ambulatory Quality Association, setting quality metrics for professional practice, and on the Executive Committee of the New Mexico Association of Commerce and Industry. He worked closely with the New Mexico Medicaid program for the three years before his appointment as Secretary, working to enhance the treatment of Hepatitis C for Medicaid members and to improve quality and reduce hospital readmissions in all New Mexico nursing facilities.
While not seeing patients and teaching, he also works as a popular public speaker, consultant, and writer.  He regularly provides entertaining talks at the local and national levels on a wide variety of topics, including fascinating medical cases, successful aging, health policy, mindfulness, and happiness. Under the pen name of David Roberts, in 2013 he published the book, Practice Makes Perfect: How One Doctor Found the Meaning of Lives, which chronicles some of the lessons he has learned from his most interesting patients.
Contact Us
Office of the Secretary
P.O. Box 2348
Santa Fe, NM 87504
Phone: (505) 827-7750
Fax: (505) 827-6286