Albuquerque, NM – Human Services Department (HSD), in conjunction with the Department of Workforce Solutions, will hold a Rapid Hire event to fill over 100 HSD positions statewide. The event will be held on Thursday, October 19, 2023, from 10am – 3pm at multiple New Mexico Workforce Connection Centers across the state.   
"We recognize the importance of serving HSD's 1,018,012 customers promptly and effectively. This statewide Rapid Hire event is about expanding our dedicated team and bringing more jobs to rural communities," said Kari Armijo, cabinet secretary for the New Mexico Human Services Department. "We want to ensure every eligible New Mexican gets the assistance they deserve in a timely manner — HSD is not just offering jobs, we're offering opportunities to make a difference."
Screeners from HSD will be on-hand to review applicant resumes and schedule qualified applicants for an interviewed on-site same day.
HSD is hiring for Family Assistance Analyst positions that will process public assistance benefits through data entry. The positions are 6-month terms with a long-term potential within the agency. Telework opportunities may be provided.
Applicants should bring multiple copies of an updated resume, three-five professional references, proof of right to work in the United States (if applicable) and copy of unofficial transcripts for highest level of education achieved. Professional attire is recommended.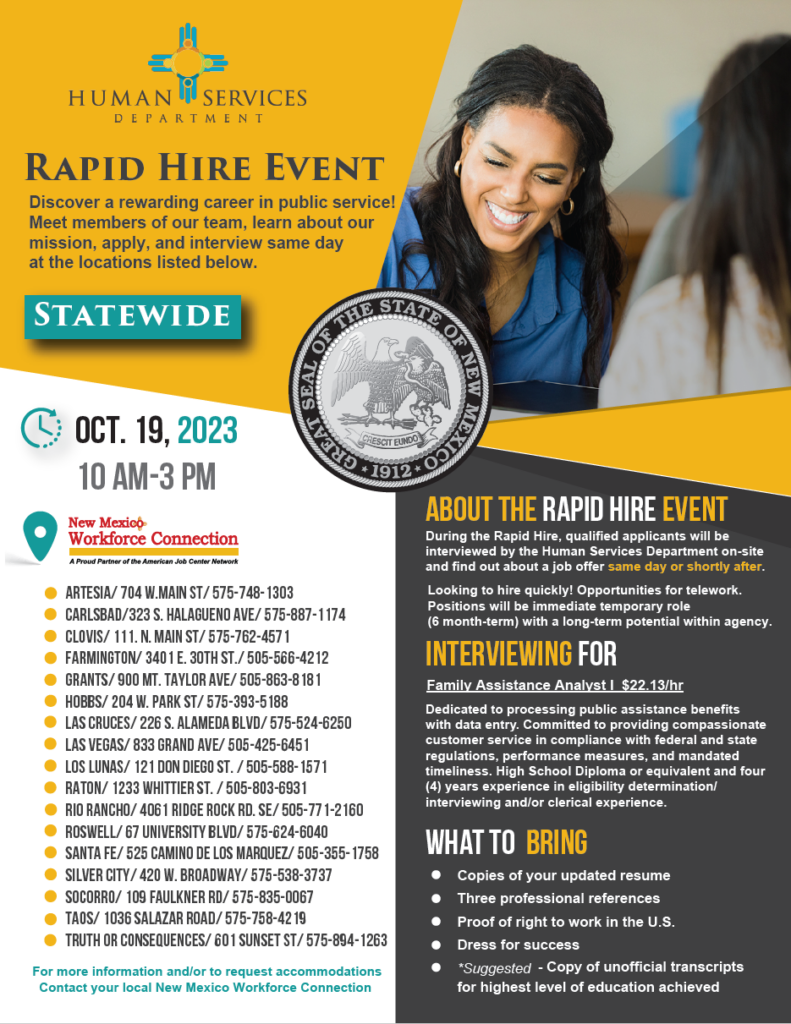 ###
The New Mexico Department of Workforce Solutions (NMDWS) oversees the New Mexico public workforce system. The department is committed to supporting the business community and assisting New Mexicans seeking employment opportunities by bridging the link between employer needs and the skilled workforce. The department administers programs to include business services; workforce training; Unemployment Insurance; labor law enforcement; veterans' services; and labor market information.
The New Mexico Department of Workforce Solutions is 85% Federally funded with ($106,960,200), and 15% ($18,543,600) financed by non-federal sources in state fiscal year 2024